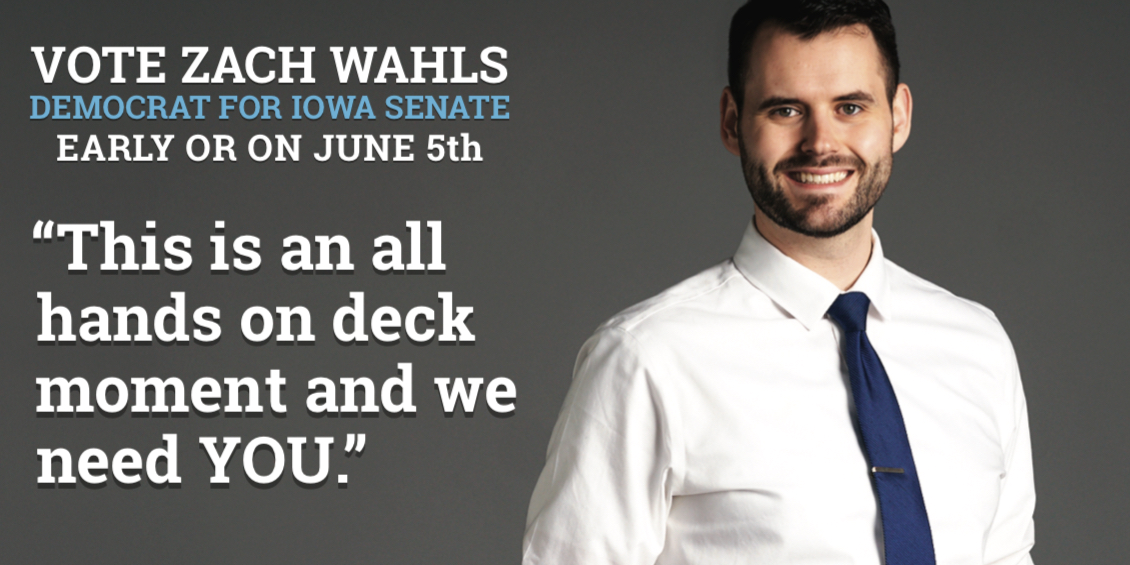 The June 5th Democratic Primary is just around the corner. There are several things you can do to help ensure that we send Zach Wahls to the Iowa Senate. First and foremost — VOTE! You can vote early at the county administration buildings most weekdays and at several satellite locations. More info on early voting below. You can also vote on Tuesday, June 5th. Find your polling place now.
You can also help the campaign by making sure others vote for Zach. Here are some quick and easy ways you can get involved.
Knock Doors
We are hitting the streets and getting out the vote throughout Senate District 37. To sign up for a door-knocking shift, complete this simple form.
Make Phone
If you'd prefer to make phone calls on Zach's behalf, get started now using our handy online tool.
Early Voting – Weekdays at the County
Johnson County Auditor's Office – weekdays 7:45 AM to 5:30 PM
913 S. Dubuque St, Iowa City, IA 52240
Voting will also be available at the Auditor's Office the weekend before the election: Saturday, June 2nd (8–5) and Sunday, June 3rd (noon–5).
Cedar County Courthouse — weekdays 8:00 AM to 4:00 PM
400 Cedar St, Tipton, IA 52772
County offices will be closed Memorial Day, Monday, May 28th.
Early Voting – Satellite Locations
Early voting will also be available at these satellite voting sites:
Coralville Public Library
1401 5th St, Coralville
Tuesday, May 29th through Friday, June 1st, 2 PM–6 PM
Saturday, June 2nd, 10 AM–4 PM
Iowa City Public Library
123 S. Linn St, Iowa City
Monday, May 7th, noon–4
Friday, June 1st, 2:30 PM–6:30 PM
Saturday, June 2nd, 11 AM–5 PM
University of Iowa Hospitals & Clinics
200 Hawkins Dr, Iowa City
Wednesday, May 30th and Thursday, May 31st, 10 AM–4 PM
Under the new Voter ID law, early voters do not have to show their ID, but are required to write their Iowa driver's license or non-driver ID number on their request form. Voters who do not have an Iowa license or non-driver ID will need to write down the PIN number from their voter card instead.