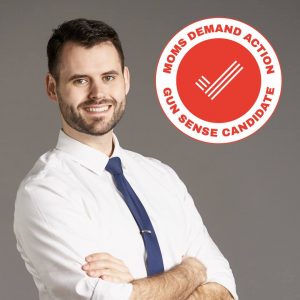 The shooting in Parkland, Florida — and the subsequent response by the surviving students — is equal parts heartbreaking and inspiring. I am proud to be supporting local efforts by Iowa City Community School District junior high and high school students to prevent continued inaction on gun safety reform. Compared to the rest of the country, Iowa's gun laws are relatively strong, but I believe we can do better.
I grew up shooting rifles, shotguns, and revolvers in the Boy Scouts, and I have several family members who hunt and shoot recreationally, so I'm no stranger to firearms. The Second Amendment isn't going anywhere, and so those of us who favor strong gun safety reform need to make sure that we are proposing meaningful solutions that are also constitutional. Our nation's Declaration of Independence promises: "Life, liberty, and the pursuit of happiness." That should be an all-of-the-above statement, not either-or.
I'm also honored to be a Moms Demand Action Gun Sense Candidate.
My priorities include:
Reverse "Stand Your Ground" — the research is clear: Stand Your Ground laws don't work.
Expand waiting periods — Iowa's current waiting period for handgun sales is three days, we should expand it.
Register handguns — Several states require the registration of handguns with the state, and Iowa should, too.
Long gun permits — Iowa already has "permit to acquire" requirements for handguns, and we should consider expanding these to long guns as well.
Any good, constitutional idea that will keep our children safe — Based on what I've heard so far, I don't believe arming teachers is a sensible approach to protecting our school children. If you have an idea that actually makes sense, please send me an email with your suggestion at zach@zachwahlsforiowa.com.
When local students led a walkout on Monday, February 19, 2018, I listened as an eleven-year-old junior high student recounted the fears of her eight-year-old brother about going to school because he feared for his life. We cannot go on like this.