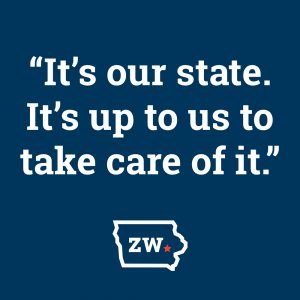 Before my speech to the Iowa legislature turned me into the literal poster child for same-sex marriage in our state, I was a civil and environmental engineering student at the University of Iowa hoping to work in either renewable energy or environmental protection. I believed then, just as I believe now, that climate change is a generational struggle that will affect not just every Iowan, but every American, and every living person on this planet for generations to come.
Iowa's natural resources are unique. They established our state as an international leader in agricultural productivity and Iowa farmers feed the world to this day. However, this has often come at the cost of the very same resources that make our state productive.
My mom Terry grew up on a family farm in Northeast Iowa. She's shared a lot with me about her responsibilities on the farm. Her chores included feeding the cattle and cleaning the hog barn. She learned that when she made a mess, she had a responsibility to clean up after herself. The same is true for all of us, and we owe it to future generations of Iowans to take care of our state's natural resources.
The environmental challenges facing Iowa are intersectional, impacting everything from the health of our citizens to our state's economy. We need a new approach to resource management that values the health and prosperity of our communities and makes sure future generations have the same opportunities as past generations.
My priorities include:
Water Quality

— Republicans just passed a $280 million water quality bill. That sounds like a lot. But the experts I'm speaking with believe this is a $4 billion problem at least. The Republican plan is a drop in the water quality bucket. In 2014,

the

Iowa Department of Natural Resources

(DNR) reported that 80% of our water bodies could be impaired and in need of clean up under the Clean Water Act. A better water quality plan should e

stablish a dedicated funding source for larger investments without taking the money from our schools and other infrastructure projects, include monitoring efforts to track water quality progress, and foster partnerships within Iowa watersheds to encourage Iowans to work together toward a cooperative vision for cleaner water.
Climate Change

— There should be no doubt that climate change is among the greatest threats facing future generations.

Iowa

will become even warmer and experience increased frequency of extreme weather events like the floods that devastated our community in 2008. These events will impact our agricultural productivity, economic development, and public health. To address these threats,

Iowa must help communities identify their climate-change vulnerabilities, invest in infrastructure improvements that promote preparedness and resilience to extreme weather events, and maintain our position as a national leader in

wind energy production

while expanding that leadership to solar energy production as well.

A Cleaner, Healthier Iowa

— Today, far too many Iowans worry about the levels of

nitrates

in their tap water or rely on private wells that may be contaminated with

bacteria or arsenic

. Many others live near concentrated animal feeding operations (CAFOs) and fear

health effects from the air they breathe

. Iowa needs a stronger DNR for reliable oversight and enforcement of environmental protections. We also need more dedicated resources for smaller water systems and private well owners to improve access to clean and safe drinking water at every tap. To overhaul the process for CAFO siting and permitting, we need to use the DNR's

Master Matrix

to better integrate environmental protections and address the concerns of affected communities.
Natural resources are a critical pillar of Iowa's social foundation — the air we breathe, the water we drink, and the soil with which we grow our food. We must balance our obligations to feed the world with our responsibility to future generations. We have a responsibility to do better. A renewed foundation starts with adequately funding water quality efforts, ensuring that we're prepared for climate change, and continuing to invest in wind and solar energy. Clean, renewable energy is both good for environment and our economy.
It's our state, and it's our responsibility to take care of it.