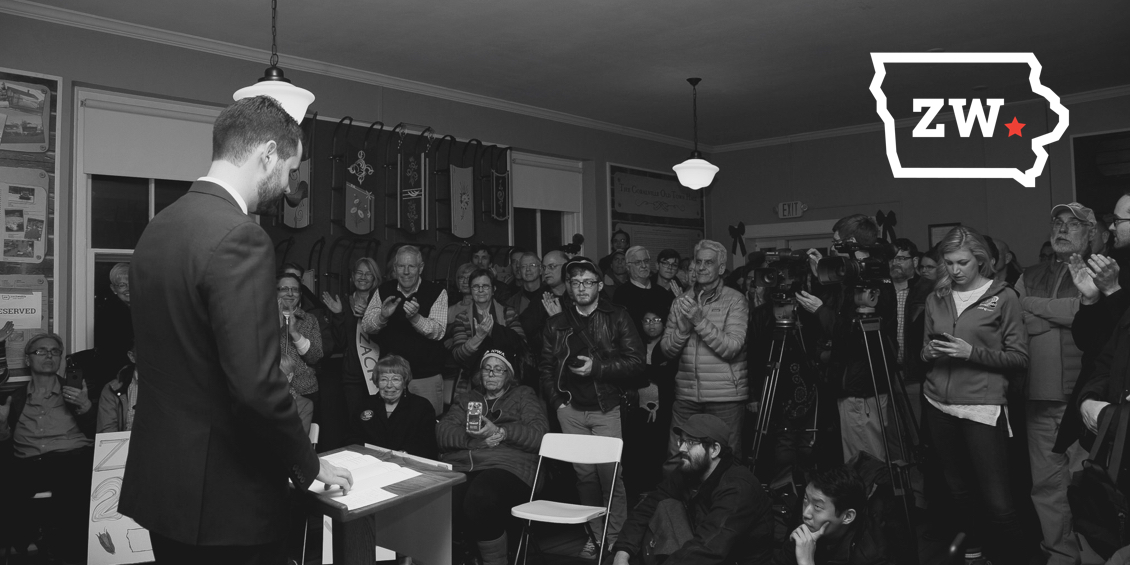 Iowa Senate Candidate Zach Wahls announced yesterday in a Facebook Live video plans for a District 37 Spring Tour with a series of meet-and-greet events, house parties, and door knocking. Wahls is a Democratic candidate for the senate seat, which is currently held by Bob Dvorsky who announced in August that he would not seek reelection in 2018.
"Since I announced my candidacy just over three months ago, I've had the privilege of spending time throughout the district," said Wahls. "I'm hearing one thing everywhere I go. People are frustrated. It's time for us to stand up for health care, education, and workers' rights. As we move into our final stretch toward the June 5th primary, we'll be out in every community — listening, learning, and getting out the vote."
Following the Facebook Live video, Wahls began the tour immediately with a meet-and-greet event in West Branch at Little Lights. April event highlights include:
April 8, 11-1 PM          Solon Brunch Meet & Greet                3763 Cottage Reserve Rd, Solon
April 8, 3-5 PM            West Iowa City House Party              1311 Prairie Grass Ln, Iowa City
April 15, 12-2 PM        Brunch at Coralville Hy-Vee               1914 8th St, Coralville
April 15, 3-5 PM          House Party by Kurt Michael Friese  22 Riverview Dr NE, Iowa City
April 17, 11:30-1 PM   Tipton Senior Dining Visit                    111 Orange St, Tipton
April 21, 11-1 PM        Wilton Cafe Meet & Greet                   116 W 4th St, Wilton
April 22, 3-5 PM          Earth Day Open House                      5770 Morse Rd NE, Solon
April 28, 3-5 PM          House Party by Mazahir Salih            2355 Jessup Cir, Iowa City
April 29, 3-5 PM          West Iowa City House Party              303 Westgate St, Iowa City
Canvassing and community events are planned for Tipton, Mechanicsville, Stanwood, Clarence, Lowden, Bennett, Rochester, and Durant.
Wahls first gained national attention when his testimony before the Iowa House Judiciary Committee about growing up with gay parents went viral and became YouTube's most-watched political video of 2011. He is an advocate for LGBTQ rights and co-founder of Scouts for Equality. He led the national campaign to end the Boy Scouts of America's ban on LGBT people, which had been in place since 1978 and survived a Supreme Court challenge in 2000. Wahls is also the author of the bestselling book My Two Moms: Lessons of Love, Strength, and What Makes a Family.
The 37th District of the Iowa Senate is located in eastern Iowa, and is currently composed of Cedar and Johnson Counties including Iowa City, Coralville, Solon, West Branch, Mechanicsville, Stanwood, Clarence, Lowden, Tipton, Bennett, Rochester, Durant, and Wilton. The primary election is June 5, 2018. The four-year senate term begins in January 2019.