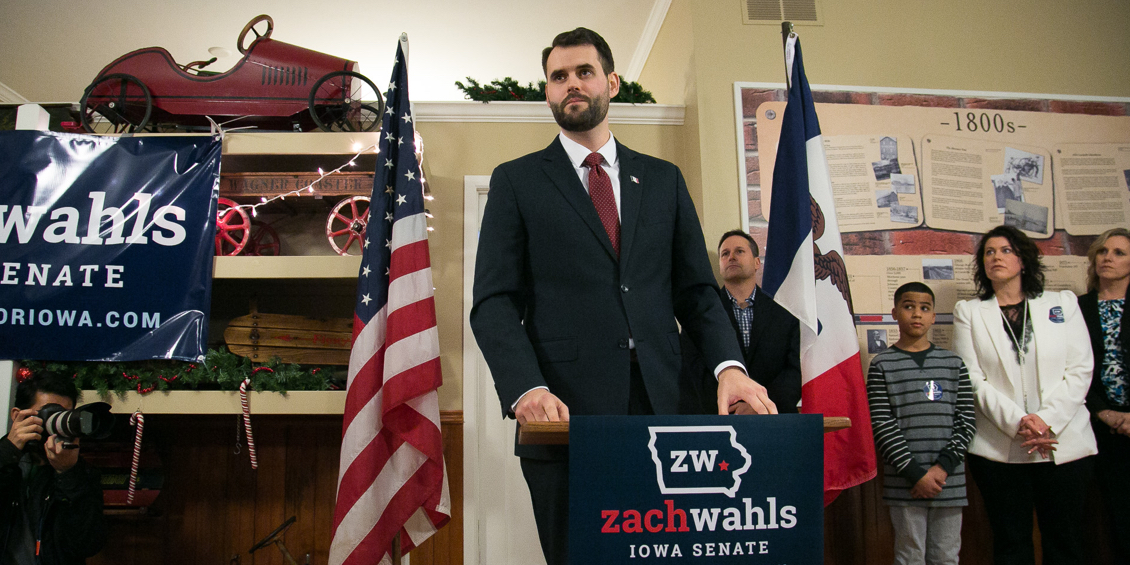 Text as prepared for delivery on 12/21/2017
Good evening everybody!
I am excited and honored to be surrounded by so many friends and family members to announce… today… that I am running for the Iowa state senate. I want to thank Mitch for that kind introduction and his incredible wife Melanie for agreeing to co-chair, together, this campaign. I also want to thank Adam Ingersoll, who is serving as our campaign treasurer, as well as Nick Westergaard, Coralville City Councilor Meghann Foster, and Lynette Jacoby who are all providing assistance and advice as members of our campaign committee. My girlfriend Chloe and my sister Zeb are here as well. So are my mothers Jackie and Terry, and it's actually their anniversary today, so will you all please join me in congratulating them on twenty-one years together?
And finally, I want to thank each and every one of you for taking the time out of your busy lives and on such short notice in such proximity to the holidays to be here today. Thank you so much.
I'm running for the Iowa Senate for one simple reason: this is an all-hands-on-deck moment that will determine the future of our state for generations to come, and I feel responsible for doing my part. Our state has a choice to make. Are we going to let Republicans continue their attacks on healthcare, education, and workers' rights or are we going to stand and fight for the values that have defined this state for hundreds of years? I believe in the idea from a hero of mine, the late Senator Paul Wellstone: We all do better when we all do better. And that's why I am running for the Iowa Senate.
A few months ago, Senator Bob Dvorsky announced that he would not be running for re-election in 2018. Senator Dvorsky is my representative in the Iowa Senate, and I am proud to call him a friend, a fellow Hawkeye, and also a fellow fan of the Green Bay Packers. He has been a tireless champion for the people of Iowa Senate District 37, which includes the neighborhoods of Iowa City I call home, all of Coralville, a wide swath of eastern Johnson County, all of Cedar County, and the city of Wilton. Senator Dvorsky leaves big shoes to fill and an important legacy to protect. And I know that because I have benefitted from his work. I grew up in this district. I went to Weber Elementary School in Iowa City where Representative Mary Mascher was my fifth and sixth-grade science teacher. I went to Northwest Junior High here in Coralville, and I got my first job across the street, as a lifeguard at the Coralville Community Aquatic Center. I was also in the Boy Scouts, and my Eagle Scout project was a book drive. We collected books for the school district, the children's hospital, and the VA hospital. At Iowa City West High School, Mitch Gross was my AP US History teacher, and that's where I started my first business, a peer tutoring company that hired high school students to tutor other high school and junior high students — and we proudly paid our employees $15 an hour. I was here in the summer of 2008 during the floods. I helped organize fellow students from West High to sandbag along the river, because we felt the responsibility to do our part. During those exhausting days, our community came together to slow the rising waters, and after the river receded, I watched in awe as many of you in this room worked to rebuild safer and stronger. For college, I went to the University of Iowa, where I became an engineering student hoping to work in Iowa's renewable energy industry. I was not planning to become the literal poster child for gay marriage in this state. But in 2011, when I was invited to testify about the proposed constitutional amendment to ban gay marriage, I knew I had to go.
And the reason I knew I had to speak was because I remembered how scared I felt in the eighth grade, watching the 2004 Republican National Convention for a homework assignment, and listening to conservative politicians talk about the dangers of terrorism in one breath and families like mine in the next. I knew what it felt like to be afraid of our government and to feel like they were coming for us. And I remembered how lonely and isolating it felt to not have a voice and not see anybody standing up to fight back. Even though I was only nineteen, I knew that eighth grade me would have been terribly disappointed in college sophomore me if I didn't speak up. So, I figured out what I wanted to say, got in my Pontiac Grand Am and drove to Des Moines on the snowy night of January 31, 2011. I gave a speech about my family, about the Midwestern values we grew up with, passed down generation after generation, and what it meant for us to feel accepted and welcomed and included in our state. I stood up to fight for the inherent worth and dignity of our family and families like ours all over Iowa.
And the video of the speech went viral. I remember it very clearly. It was my first snow day as an undergraduate at the University of Iowa, and it was the single most stressful snow day of my entire life. And at the end of that day, when the phone calls were finally slowing down, around 10 p.m. I got a phone call from Mitch Gross, who asked me what the heck was going on. I had never been so relieved to hear from a former high school teacher. I love my moms very much, but they both work in medicine — "going viral" means something totally different to them. Mitch and Melanie drew on their years of political campaign experience and helped me sift through all of the incoming interview requests and invitations and figure out how to move forward, and I will always be grateful for their help.
When the video of my speech took off, I was reminded that my family was not alone. I heard from people all over our state, all over the country, and all over the world — including from several actual eighth graders. I was still young, and there were lots of things I didn't yet know about the world, but I understood that speaking out had put me in a position to make a choice: I could either stop returning the phone calls and emails and try to go back to my life before the speech, or I could choose to fight for families like mine and be part of a movement that was much bigger than myself, a movement that was fighting for people who had been left behind and told they were second class citizens. I knew exactly what eighth grade me would have wanted me to do with that choice. I chose to keep speaking. I chose to keep fighting. I joined One Iowa and spent months on the road traveling all over our state, listening to and talking with people in small towns and big cities about why marriage matters. I signed on with Justice Not Politics, and successfully fought to protect our supreme court judges from right-wing retaliation in the 2012 election. I co-founded and led Scouts for Equality to lead the fight to overturn the Boy Scouts of America's decades-old ban on gay youth and adults. I had been fortunate to grow up in a community that accepted my parents in our scout troop, but I knew that wasn't the case in many communities across our country. I led an organization that peaked at 25 full-time staff, and mobilized hundreds of thousands of people to convince the Boy Scouts to do the right thing. And we got it done: today, no Scout has to worry that he will be rejected because he is gay or transgender, or that his family will be excluded or left out because he has two moms. Today the Boy Scouts respect and include all American families. That campaign was the most difficult thing I've ever done: I learned how hard it is to stand up to your friends. But I knew it was the right thing to do — because of what I learned in the Boy Scouts. And amid all of that, I even managed to graduate from the University of Iowa. And I had learned first-hand the difference that we can make in politics when we work together, and I knew I wasn't going to become an engineer. I decided to pursue a master's degree in public policy at Princeton University, planning to return home after graduation.
And then 2016 happened. We all remember where we were on the night of November eighth and we all remember how we felt when we woke up on the morning of November ninth and realized this is really happening. Iowa Republicans rode our state's swing from Obama to Trump — which was the biggest of any state in the country — into full control of our state government. As the lawmakers who are here can tell you, over the last twelve months, Iowa has been decimated and demoralized by the Iowa Republicans' radical agenda, especially on healthcare, education, and workers' rights.
Amidst an ongoing mental health crisis and the opioid epidemic, our Republican government has continued to shut down state mental health facilities. They have presided over a disastrous privatization of Medicaid that is costing our state hundreds of millions of dollars and harmed people here in our community. Further, they've denied tens of thousands of Iowa women the health care they need by defunding Planned Parenthood. On education, they have slashed $55M in funding for higher education and restricted K12 spending — all while managing to leave a gaping hole in our state budget, which would be impressive if it weren't a nightmare for Iowa families. In addition, over the last year, our state has witnessed a sustained and systematic attack on workers' rights. Not only did Republicans destroy collective bargaining rights for 184,000 public employees and kneecap worker's compensation benefits for all Iowans, they told communities like ours that we aren't allowed to raise the minimum wage, even though seven in ten Iowans support giving workers a raise. Iowa used to be a leader on workers' rights. We used to set the bar for education. Rather than recommitting themselves to building up Iowa's social foundation, Republicans are hollowing out the public programs that underpin our society. Instead of putting our state on solid footing, they have left us teetering.
So, just to recap: the Republicans told us there wasn't enough money for the mentally ill. There wasn't enough money for those who are sick and can't afford healthcare, there wasn't enough money for the teachers and students across this state, there wasn't enough money for the state troopers who keep us safe on our roads, there wasn't enough money to help make college more affordable for Iowans, there wasn't enough money to raise the minimum wage, and there was not enough money for women who are victims of domestic violence and sexual assault. That's right. The Republicans cut $1.7 million dollars from victims' services, which was an atrocity because the Senate Republicans had no problem finding $1.75 million in taxpayer money to settle their sexual harassment lawsuit. As many of you know, that suit was brought by a former senate staffer who was wrongfully fired after she reported being sexually harassed on the job. Nobody in the Senate leadership was held accountable and the work environment has not changed because the leadership in the Senate Republicans has not changed. If you elect me as your next state senator, know that I will never hesitate to call out unacceptable behavior whether it is coming from Republicans or from Democrats. Growing up with my two moms and then as a Boy Scout, I learned the importance of treating all people with respect, and I've had practice standing up to people when it's the right thing to do. There is a problem in the Iowa Senate, and I want to be a part of the solution.
That solution requires more women and more young people and more people of color in the Iowa legislature. It requires more men who are willing to shut it and listen, who accept the responsibility to hold themselves, and other men, accountable. This moment demands people who are willing to stand up for what's right, even — and especially — when it means standing up to the patriarchy. This is something I take personally and seriously, and we should expect the same of anybody, from any party, who wants to lead in this state.
I want to close out tonight talking about how we are going to run this campaign. As I mentioned earlier, I am currently finishing my master's degree in public policy out at Princeton. I want you all to know, I'm going to attend my final classes remotely, be on campus a few days a month, and finish my degree while living and campaigning here in the district. Funnily enough, the primary election is the same day as commencement. So I won't be able to walk, but I will be able to run. I know, I know, the bad politician jokes are starting already. In the meantime, in these next five months, I will be traveling the district, visiting Solon and Tipton and Mechanicsville and Wilton and more — meeting with folks, listening to people's stories, and hearing about your concerns and what you think our team's priorities should be if we are able to win this election.
I'm also committed to bringing people together and to moving our party forward united behind progressive priorities. We may have been knocked down in this state, but we have not been knocked out, and if you are willing to join this fight for a more just and equitable community, we want you on our team.
And I want to say one final thing about community, and why this community means so much to me. When I think about community, I think about family. And I believe that what makes a family is our commitment to each other to work through the hard times so we can enjoy the good ones, that it comes from the love that binds us. That's what makes a family. And what makes a community is our commitment to each other. And we've been through hard times. We're in a hard time right now. But we've had good times, too, and I know we will again. And when we do — our work is to make sure that we are all sharing in that prosperity. Because there are a lot of people who are struggling, and aren't sure if their kids are going to have a better life than they did. There are a lot of people who feel left behind, and left out. I'm running for this seat because I'll never forget how it felt to be excluded, or how hard we had to fight to get a seat at the table. I'm running for this seat to fight for your family the way I fought for mine.
Thank you all so much, have a very Merry Christmas, Happy Holidays, and good fortune in the new year. I look forward to working with you. Thank you.