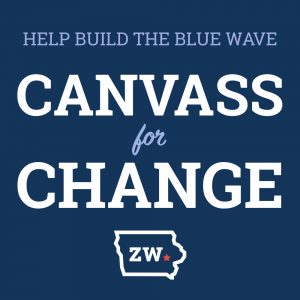 There are many ways to get involved in the campaign. You can complete our volunteer form and host a yard sign or write a letter to the editor. At this point, I do not have a Republican opponent, although that could change if the Republican Party decides to nominate someone. Currently, I have one opponent in the race, Libertarian Carl Krambeck.
Across the state, however, there is an incredible amount of work to do. Iowa Democrats have a great candidate for governor in Fred Hubbell. We also have a great shot at flipping the Iowa House to Democratic control. In the Iowa Senate, it's more of an uphill battle, but we have some terrific pick up opportunities, and if we are able to make the "Blue Wave" a reality, retaking control of the Senate is within striking distance.
That's why my team and I are going to be helping build the blue wave by knocking on doors in more competitive House and Senate races in Central and Eastern Iowa. We're calling this program "Canvassing for Change" and we are actively looking for volunteers to join us. If you're ready to help make the blue wave happen, please sign up to canvass below.
SIGN UP TO CANVASS FOR CHANGE NOW >>
We will continue to raise funds to help pay for our canvassing program and to make sure we are not caught off guard by the race here in District 37. I am also going to keep raising funds to start financially supporting many of the Democratic candidates who we will be supporting out on the doors.
As always, thank you for your support!